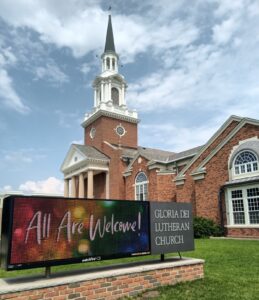 Gloria Dei provides rooms and facilities on a space-available basis as part of our mission to encourage partnerships within our community with outside groups, organizations and private events (rental fee may apply). For weddings, please email Director of Finance and Administration Beverly Sargent.
We have a number of rooms that range from small classrooms to large hall space, depending on your event needs. Please complete our online Facilities Usage Request form. Our Director of Finance and Administration Beverly Sargent will follow up.
Accessibility
Accessibility is a top priority at Gloria Dei. From parking to the Sanctuary, Gloria Dei is accessible to all guests. There are ramps at most entrances, and we provide restroom facilities for disabled members/visitors. Gloria Dei offers ample designated disabled parking, several passenger drop-off areas and convenient curb cuts for easy wheelchair access. Other services include Braille instructions on elevators, and assistive-listening devices for worship services.